My wonderful girlfriend (i.e. Heather) made me an advent calendar!!! Apparently this isn't even as good as she wanted but ran out of time and will be improved for next year. I'm so excited and can't wait to open the first little door!
My wonderful advent calendar made by Heather
My advent calendar is so awesome it starts in November! Today's little door revealed Sun-maid raisins. This is because Heather knows how I would always receive a pack at Christmas when younger, and so continues to tradition.
December 1
Little chocolates. Heather knows I don't like the poor quality chocolate in normal advent calendars so mine contains some proper chocolate. A mini Twix and Galaxy Caramel!
It's a puzzle! How to remove the ring from its entrapment? It took me a moment to work it out; and then a moment more to get it back on again!
Milkybar buttons—the best buttons (though I do like those packs of mixed milkybar-milk chocolate). The second chocolatey treat. Yum.
It's a repeat of the , which is good because I've ate the last lot. I suspect that this calendar may contain a lot of chocolate—I like chocolate!
More chocolate 🙂 A Marathon (okay, Snickers) and Bounty—probably two of the best little chocs. I said there'd be a lot of chocolate!
A Lego bear-headed person. He's so cool and colourful. Now with the other minifigs scattered around the bookshelves.
Back to the yummy, with another Bounty and a Teasers(Bounty good, Teasers OK, nut I'd prefer a proper Malteser)
It's a wall (or door) crawling snowman. Throw him on and he sticks, and tumbles down!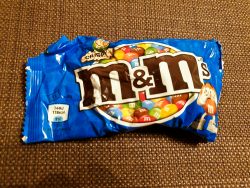 Crispy M&Ms—they're the oddest of the M&M family but still nicer than the peanut ones.