Having been introduced to them by their supporting Placebo I've been looking out for The Mirror Trap. Happily they have been on their own little tour and saw them play a slightly more compact venue in Our Black Heart over Camden way.
Heather and I made our way over after work, meeting at Victoria station which confused me by a) having a Wetherspoons b) having an entire shopping centre, where we found dinner at Cafe Rouge* You can tell I'm not overly familiar with Victoria, right. Having made Camden we found the venue down what looks like a back alley, enjoying a drink downstairs in the intimate bar (which had pretty good music as a background). We were called upstairs to the venue itself by the sound somebody playing though, it turning out that there were actually a couple of support acts.
Dead Pretties
First up were Dead Pretties. They certainly had a lot of energy, which one day might collide with some talent. Heather and I were mainly amused watching the over the top antics of the twelve-year-olds* not really 12, we're just ancient at the front. Anyway, here they are trying to channel the Libertines
Unfortunately they seem to be yet to write a song about which the best biscuit is.
Bison
Second on the bill were a three-piece called Bison. They were actually pretty good, with some nice rocky riffs to cling onto. The acoustically swirling intro to one song was particularly impressive. Seems a shame that it appears Real Life means they won't really be around. They do have a little album though, worth a listen.
The Mirror Trap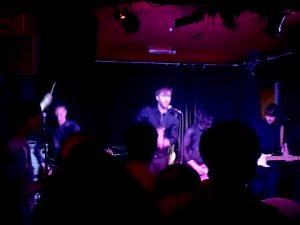 Having seen how crowded it was with just three on there we were wondering how they were going to get everyone in The Mirror Trap onto the rather small stage but they managed somehow. From the opening chords it was obvious they were the class act of the night; touring with Placebo has obviously gave a professionalism that immediately comes across. And their music just burns through the rest. We were treated with a few songs I knew, I few I didn't and some brand new material which was sounding promisingly good.
They closed with a stirring rendition of Silent Men
And we went home happily tired