The Poor—Arctic Monkeys
A saw a visit to the home of Arsenal to see the Arctic Monkeys. In theory it should have been a good gig, with a load of sing-a-long anthemic tunes. As it was, it was more akin to their last album, which seemed to be some sort of joke seeing how much they could become a parody of themselves and get away with it. Alex Turner strutted the stage with unlimited confidence and the charisma of a wet tea towel. At least the young girls in front of us seem to be enjoying themselves, but Heather and I took the very rare step of leaving before the encore.
The Good—Kaiser Chiefs
on the other hand saw Heather and I in the unusual venue of the Old Royal Naval College in Greenwich. There they had at a stage by the river and some toilets about a mile walk back but that was all fine because the queue for the bars was almost none existent. A support act of The View were pretty forgettable it seems* At least they didn't have an on stage fight, unlike one of their previous gigs but the main act were as welcome as always. The Kaiser Chiefs know how to put across those sing-a-long anthemic tunes to give a good night by the Thames.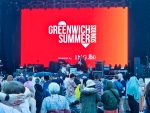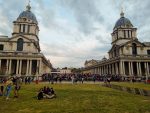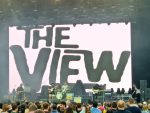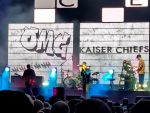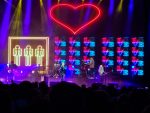 The Great—Pulp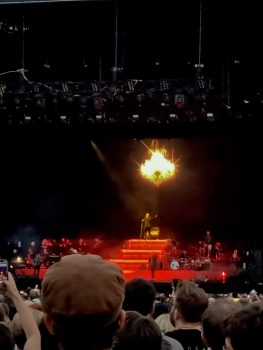 A all that though, we'd been in Finsbury Park for the incomparable Pulp. The bar queues ended up over an hour long, and we had to walk a mile across the dark, uneven ground to get out at the end, but while they were on stage we couldn't care about that.
We'd actually arrived early enough that the bar queues weren't so insane, and enjoyed the support acts in a festival like atmosphere. Baxter Dury seems angry, possibly because he's not his dad (he's also older than I expected). Wet Leg meanwhile are as gloriously weird in person as they sound on the radio, joyously warming us up. Pulp though are another level. Jarvis strides the stage with a sheer cockiness Alex Turner can but dream of, the band tight behind him, the anthems sung loader and with more heart, from the opening salvo of I Spy and Disco 2000 right through to a rapturous Common People—not quite twenty thousand people standing in a field indeed. They hadn't actually broken to leave the stage and come back out and any point, playing straight through but having seemingly gone and as the huge screens flashed the way to the exits, they returned for one last but of Razzmatazz. If this is what they do for an encore I only hope they keep coming back to the stage.