A couple of years ago, we had some daffodils in the house, complete bulbs that is, which grew and were lovely. We put the bulbs away in some soil in the hope they would return. They did nothing last year though, and we thought they were doing nothing this year—to Continue reading …
I'm beginning to think the idea of responsibility has become very disconnected from the concept of consequences in this country…
Absolutely terrifying crash in the F1 race this afternoon, from which Grosjean somehow walked away. For anyone doubting the value of motor-racing, that's the sort of safety advancement might one day save your life on the motorway.
The incomparable, and appropriately named, Amazing Randi died last week. He was the finest of sceptics, and a knight of truth. I feel his anger towards those who would lie and take advantage. Here is his marvellous TED Talk https://www.youtube.com/watch?v=c0Z7KeNCi7g Here he is in an interview basically doing Uri Geller's Continue reading …
Got bored the other day so made these in support of those brilliant people keeping the country running and saving lives: (Unlike other things on this site, these are released under Creative Commons Universal Public Domain Dedication) A4 PDF Versions: Heart Key Workers NHS
A quick return to Rochester, for we were pulled by the gravity of the Moon Continue reading
I am restarting my campaign for an office cat. We could call it Engey.
The 51 Bus Route And Beyond!
We have a little pub crawl planned for —and by little I mean a crawl of the local Micropubs. There are two within walking distance of home but, more importantly, there are quite a few scattered along the route of the number 51 bus, starting in Sidcup and ending in Welling (or vice versa). And then a few more fairly easily connected to that, giving eleven (!) in total. To help plan I made a map: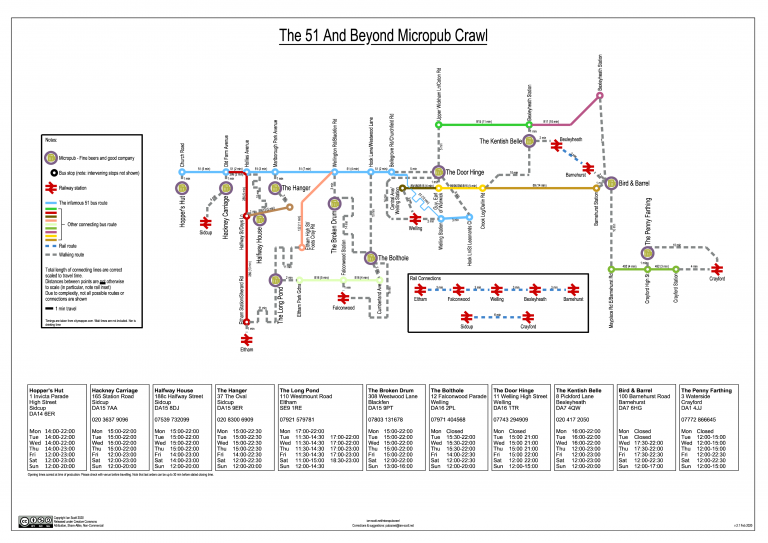 The list:
* The 51 bus route pubs
(On a map)
We won't be attempting all eleven, just five or six. I may (drunkenly?) update how it went.
It Starts
Beginning with a Howling Hop's House IPA in the Hopper's Hut
Tanner's Box O' Frogs at the Hackney Carriage
Halfway House
Welcome to the Hanger