Last Sunday was actually sunny enough for something of a trip out, so Heather and I headed for some excitement, in the form of steam trains!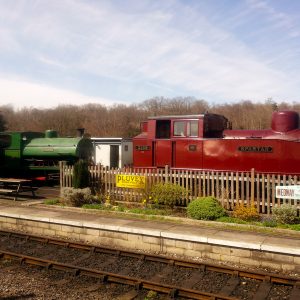 We headed into deepest, rural Kent, which may account for my somewhat grumpy mood that morning as we were aiming for that grand bastion of deepest English middle class known as Royal [obviously!] Tunbridge Wells. I was even forced to look at a pretty little market!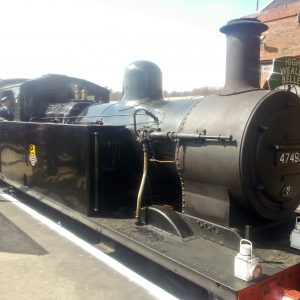 Everyone should be cheered up by heritage railways, and so it was on reaching Spa Valley Railway. There wasn't a train due for a while which gave us a chance to take in the engine shed (not allowed to wander round these days though 🙁 ) and look over the lines to the rolling stock standing outside. I was also surprised to find an old railway poster advertisement for, of all places, Whitley Bay hanging in the gents toilets!
There was time for a quick lunch in the carriage converted to a cafe—no bacon sandwiches available that day but the sausage roll was, as promised by the friendly proprietor, was pretty good. Then it was time for trains!
The excitement began with a steam shrouded arrival, the returning train being pulled in by the 3F Jinty class Number 47493 (which so far as I can tell is nameless; no name is on Spa Valley's stock list and UK & Ireland Heritage Railways' database doesn't list one—I believe the High Weald Belle sign indicates a dining train special, rather than a name). We watched as that engine then ran round to take on more coal (not sure the traditional method would involve a big yellow digger) before boarding and setting off behind a not quite so exciting Class 33 diesel, though at least it did have a decent name, R. J. Mitchell after the spitfire designer. Off through the countryside we slipped, to the quiet station of Eridge. Leaving the train behind for the moment, it was time to rest in the nearby pub's garden and wait the last train back (good job we checked the sign at the station, or we'd have missed it).x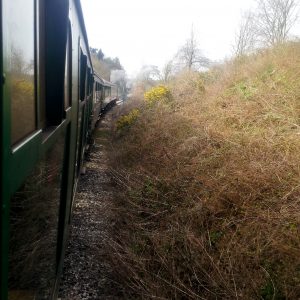 The journey back was of course the whole point of coming, setting off behind 47493. There is nothing quite like being pulled by a steam train, sticking one's head out the window to get a face full of soot. Glorious 🙂
Photos: