Having been frustrated earlier this year Heather and I finally got to the Bluebell Railway, for steam trains complete with special visitor!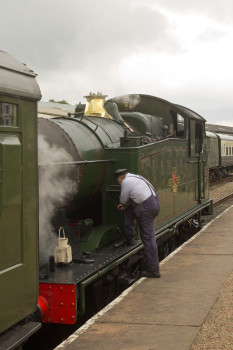 Getting to Bluebell is actually quite easy if the modern day trains are running. It's a short, not particularly exciting hop from East Croydon to East Grinstead. These days a short walk along the route of the rail takes you to one end of the Bluebell, a little station alongside the commuter tracks. We browsed the leaflets (Heather happily checking off all the other steam railways she'd visited) and bought our tickets, and had some cake in the carriage based cafe while waiting for the next train to arrive. Soon enough the visiting 5643 arrived. While it ran around its coaches we settled down and were quickly under steam!
The lovely sunny day lit up the countryside as we were gently pulled through with a rocking motion that only seems to occur with a steam engine at the head. As she knows the line quite well Heather was in charge of stopping points so we passed through Kingscote and on to Horstead Keynes. Disembarking we hung around to see the train heading into the other direction pull in, headed by the specially visiting Tornado.
Engines gone we wandered round the workshop and art exhibition, as well as taking a look at the stock sitting idly by awaiting some TLC in its restoration. The gents are pleasantly not updated, and open air section with against wall urinal giving a certainly rustic feel! We also found the little cafe sold beer to keep us going until Tornado returned to pull us onto the end of the line.
That end is Sheffield Park, where we headed for the traditional wander round the little shop. More importantly though its where the sheds are located, with a range of locos either resting or on static display. That is where Heather's favourite steam train, Stepney was to be found, along with its brother Fenchurch.
We didn't have too long to wait though before Tornado was back and we could hang our heads out the window for the entire line. The new "old" girl is really a magnificent beast; there was a palpable feeling that the A1 Pacific was well within itself as it sped along the rails—this is after all an engine that can happily live on the main lines of today.
So back to East Grinstead it was and we were all smiles as we wandered into the town for a quick look around. We found the Ship and stopped for a drink in its nice terraced decking beer garden, where a robin was kind enough to serenade us. The rest of East Grinstead seems mainly to like Indian restaurants, though only one was actually busy. We did briefly call in Tommy Flynns on the way back to the station but it was quickly onto the train home.

Photos: