The weekend's excitement mainly happened on Sunday, with great beasts of two kinds. Before then though there was:
Friday Night
A post work meeting of Heather found us in Croydon looking for somewhere to eat. We eventually settled on a noodle bar, which at least filled us up even if it wasn't overly exciting. On the way home we called into The Green Dragon just looking for a drink. What we found was an impromptu stage and a couple of pretty decent bands as part of CROxjam. First Dearlove and then especially The Midnight Barbers entertaining and rocking us.

Weekend
Saturday was fairly boring, punctuated with a visit from the landlord and watching some football, though public transport did somehow transpire to make a journey of about 7.5 mile take around 2.5 hours.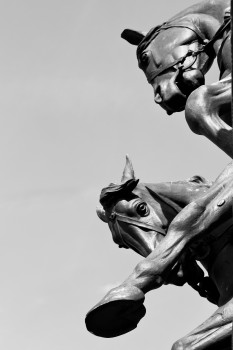 Sunday was much more packed though as Heather, her god-daughter Gemma, and I set off to visit the Wellington Arch. The weather kindly decided to remind us of summer with its unseasonable warmth and sunniness. We expected to find the arch surrounded by sweating runners from the Royal Parks Half Marathon but they must have been too quick for us for the only sign was a number of tired out looking people.
It turns out that English Heritage membership has advantages other than not worrying about paying, as Wellington Arch has no toilets Heather was able to nip over the road to Apsley House to use the ones there (Gemma and I agree we don't like the colour of the Duke of Wellington's former home).
Back to the arch, for the exhibition we'd come to see—Brutal and Beautiful detailing English Heritage's listing of more modern buildings. Some of the buildings listed are certainly controversial (a pity the Gateshead car park never made it to listed status) but all interesting. It was also nice to find a model of Jesmond Library (now community run it seems, thanks to a lack of governmental funding) and a big photo of the Byker Wall to remind me of home.
The rest of the arch is filled with bits and pieces of history but doesn't take long to look around, so we were soon off to find lunch (good job given how hungry we all were). The half marathon did mean there was an entertainment stage and food stalls set up in Hyde Park which we strolled down to. While the vegetarian had some sort of strange cheese concoction Gemma and I found burgers. All of us made a trip to the cookies and cake store after though!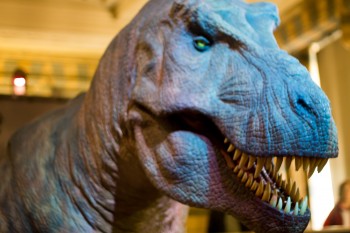 Passing out of Hyde Park we wandered down more nice buildings along Exhibition Road (don't like the "shared space" road/pavement arrangement) before deciding to wander through one of them through the "exciting" entrance. The Exhibition Road entrance to the Natural History Museum brings you up an escalator to through the burning mantle of the earth!
We got a bit lost in the various levels before invoking misty childhood memories in Heather as we reached the central hall with its dinosaur. Then Gemma got very excited at a visit to the animatronic T-Rex!
On the way back out back through the central hall Gemma tried to photobomb us, so logically we just started taking her photo on purpose. By then we were pretty worn out and so out the main entrance we went to wind our way to the tube and home.
Photos: