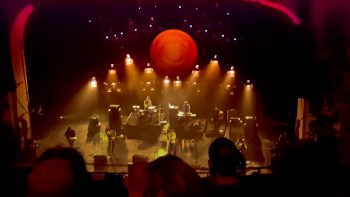 After the gig fest at the end of last year it's taken a surprisingly long time to get around to a gig proper this. That changed on though with a return to see James at the Brixton Academy touring their number 2 charting Girl At The End Of The World album (and a few old favourites).

The queue at the Academy moved quickly for once, and we were only hanging around in the gloriously sunny evening for a little while before getting past security and inside (still too many ticket checks and rechecks—and for some reason it felt weird to go into a gig like that when still light outside). Once we'd been to a poorly stocked bar (the guy beside us discovering a little late the lack of mixers), it was over to the merchandise table for t-shirts and a bag (the Girl art work is lovely; Heather's Bitch t-shirt is, um, tight around the chest).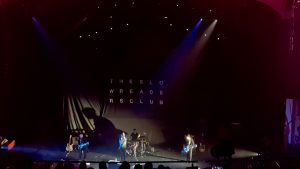 Like the last James gig we were up on the balcony, so again headed right for the back so as to make sure not to annoy anyone with dancing (the entire crowd seemed to be up anyway, but still). We were settled in place early enough to see the support, The Slow Readers Club. They were entertaining enough, and certainly better than my quick pre-quick listen to some of their stuff had me expecting. Still, while we weren't running from their set, they weren't overly memorable either, though I Saw A Ghost stuck in the head. Their banner hung around a little longer as the stage hands struggled to get it in down in preparation for James.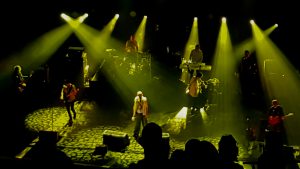 The success of Girl was a bit unexpected but meant it was no surprise that James opened with new tracks. The crowd didn't seem to mind that either, even when James are five or six songs before getting to anything classic. Opening with Move Down South, the chanting chorus of Bitch is an early highlight and Alvin is a daft little dancing number. Still, there's a great cheer to greet Born of Frustration. It's Sometimes that sets the crowd off though. That chorus is always something but as the song drew to a close something remarkable happened. As seen in this video as James tried to change instruments the crowd weren't done with them and so they had to start up for a little bit more Sometimes.
What they were actually trying to get ready to play was Surfer's Song, which sounds typical James as it builds to a crescendo, Tim vanishing from sight to be carried, we presume, over the heads of the crowd below. It's followed by the gentler Girl itself, which just gets stuck in my head. In case anyone were thinking their roots are forgotten though, they break out the bouncy English Beefcake.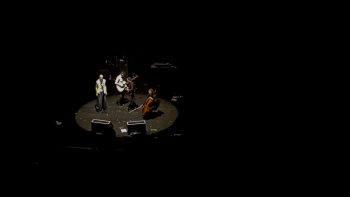 I've always though She's A Star is better the more stripped back and bare it becomes and here was no exception, a little circle of light on the stage bringing intimacy. There's more old stuff to come, Honest Joe I don't think has been a tour regular in a while, Tim dragging crowd members up on stage to dance with him. Sound certainly has been though, and rightly so. They end, as they begun, with the new though, and Attention.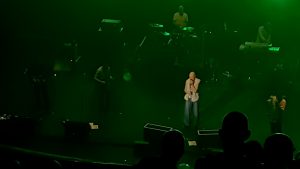 The crowd weren't leaving it there though, we knew they'd be back. And so the encore came with Say Something, the haunting Moving On (the only "new" James not from the latest album) and the fine Nothing But Love. We would probably have gone home happy after that but still no-one was done. A second encore, with old favourites Come Home and (a personal high always) Tomorrow.