It seems forever since we saw live music so Heather and I were pleased a while ago to realise James were touring (I've been a big James fan for a long time). So we met after work at Brixton to go see them at the Academy.

If We Can Just Get In First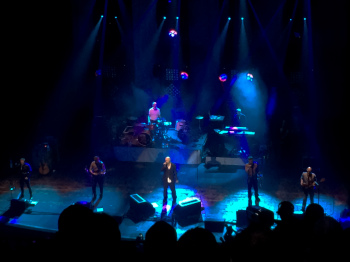 We strolled from the station to the Academy and joined the waiting queue, only to be told after a few minutes it was a VIP queue (no signs!) so went and joined another queue around the corner. Then things started to get silly. I don't suppose the academy can be blamed for the white van driver seemingly incapable of backing into the adjacent yard, and at times coming perilously close to the queue in the dark (though one might argue the staff had a duty of care to ensure safety). The random calling forward of people with O2 priority (but just you, not anyone you're with) was a bit chaotic. Then near the doors the queue was being split into male/female with no explanation. Queries elicited a response of for body search reasons. Indeed, through the doors my bag being examined before a pat down body search (eventually detecting a lollipop as a suspicious item). The problem is Heather wasn't subject to a pat down; blatantly sexist behaviour by the security staff. Then there was the priority only cloak room (despite being empty…) At least the bar was well staffed and efficient though typically short on choice.
Anyway, finally we found our way into the circle, picking a seat at random—it eventually occurred to us to move right to the back so we could stand and dance in peace!
Starsailor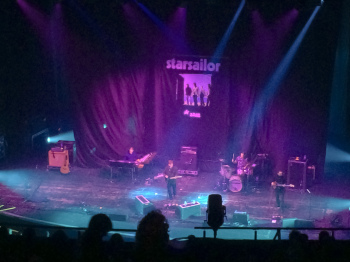 Supporting James on this tour were Starsailor. I haven't been there biggest fan, though there was one album of theirs hiding in my collection (their first I think). They seemed a better band live, going some way to winning me over. I enjoyed their set even if it wasn't quite stand up and dance time yet.
James
Starsailor left, their kit was cleared, the curtain removed to reveal James' instruments. Then the show was on.
Coming on to the sound of, well, Sound raised the atmosphere as James began to do what they do best. Walk Like You promises that the new album will get plenty of airing. And while the later pairing of Curse Curse and Laid is perhaps more obvious there's a possible echo of Sound here, We learn to walk like you/Talk like you/Oo-be-do/Think like you/Whine like you/Love like you in pieces bringing to mind the opening line of that previous song Ape your father's sins, your mother's mood swings.
Just Like Fred Astair is an actual love song (a rarity for James) and one that sound better live than in the studio (not uncommon; even the great stuff can sound better live when James play it). The aforementioned Curse Curse/Laid combination has been a feature of the tour and the two work together. It's interesting how well received by the crowd the first song is, an indication that, particularly live, the new album is close to earlier period James at their peak. That's a point perhaps emphasised by All Good Boys, a song so unfamiliar to most fansmyself included that it could be new, a sound that could come straight from the new album, but in fact is way old (a b-side to I Know What I'm Here For back when b-sides really were a thing)—it's a typically James move to throw a song like that in.
It's difficult not to get swept away at a James concert, flowing with the music and energy. Which is perhaps why, a little disappointingly, Tim felt unable to sing the very personal All I'm Saying. Instead we get Johnny Yen which slowly grows to get things back on track. It's joined in the setlist with an equally old-school Hym From a Village & What's the World before another old James tune reminds the crowd they really can bring on the dancing with Jam J (as a review of the previous gig said, can we have the other 25 jams please?)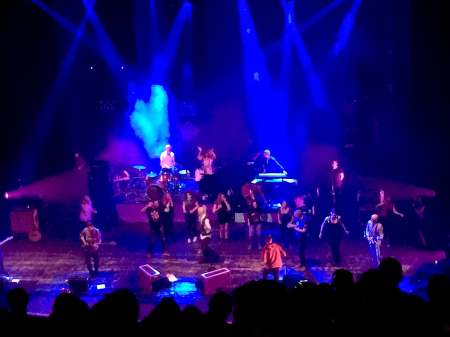 And then, it's calm, soothed by Out to Get You and always gorgeous Vervaceous. Having warned Heather to expect things to go technically wrong and James to be brilliant anyway it was almost a disappointment nothing had gone wrong to demonstrate why Getting Away With It is something of a James anthem—and still one of my favourites.
The quietness is brought to a close by another new song, before ramping things back up again with Come Home and Gone Baby Gone feeling right at home closing things out.
James encores are unpredictable; this is a band who might play anything. What we got was new sitting alongside old again, Interrogation building towards Born of Frustration (to please Heather). Sometimes really is an excellent show closer, sending the crowd into the night singing its refrain more like a football crowd.
Sometimes, when I look deep in your eyes, I swear I can see your soul.