Following on from Enchanted Parks it was English Heritage's turn to get in on the act, as Heather and I took her Mum, Gemma, Doug, Esther, and of course Evie to see the gardens of Eltham Palace transformed into an enchanted world.
Having reached Eltham by bus and walked down we had to wait around a bit for Doug to recover from a little leaking radiator problem before joining us. Soon enough we were crossing the pretty candle lit entrance bridge. The ticket check seemed a bit disorganised (no one actually checked those who said they were members actually were, or really counted the number of tickets as far as I could tell). We found ourselves in front of the great hall, with a projection of some Latin text shining on the side wall (unfortunately the projection wasn't well focused).
We followed the twinkling little lights around the footpath, down through an exciting tunnel to the far side of the medieval part of the palace. There a little tent sold some marshmallows to toast (and somewhere were some sausages in a bun), and a frame with spinning letters. It felt a bit of a strange selection of things to meet as a first experience, (and the marshmallows caused a bottleneck in the cold night), but there we are.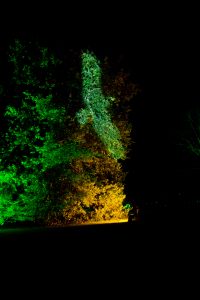 Around the corner from all that the formal gardens of the palace sparkled with colour. The pools and lakes reflected the lights beautifully in the still, cold and windless air. Half way down we found a throne for Queen Evie to sit on, aided by Maid Gemma. We knew she was the real Queen for shortly afterwards she proved here ability to pull the sword from the stone* It was most amusing when the guy following behind us didn't realise about the secret peddle allowing this trick to be performed.
Illuminated trees reflecting in the pools offered more still and quite spectacle before turning the corner to reveal the view down under the bridge we'd earlier crossed. We passed under the bridge and then along another twinkling path up into the hills. There giant birds of light flittered from tree to tree before we came across a view down to the other side of the hall, also illuminated (and more in focus).
We carefully passed a knight which Evie was very suspicious of before finally descending again and finding our way inside to the shop. There we could stock up on mead, ready for Christmas. In all a shorter, and less complex or artistic, experience than Enchanted Parks but still a pleasant stroll through the darkness. It will be interesting to see if things evolve for the next festive period.