A saw Heather and I yawning as we rose early to get to Kings Cross Station, all to catch a train north to Newcastle.
Even in a sleep addled state we managed to find our way to the train and out the station at the other end without too much incident. We were going to take our traditional break in Centurians but, partly thanks to it being a home match day, it was a bit packed. Instead we stopped off at The Bridge Hotel before making our way to our actual hotel for the night.
Football and Shopping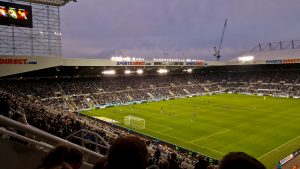 Checked in to base we hurried back out into Newcastle. Heather wandered off to the shops while I headed to the cathedral on the hill to watch the might Magpies actually win a game (4–0 at that). That meant I was a happy boy when meeting back up with Heather. We did a bit more shopping before dropping bags back to the hotel and going to catch a bus.
Disenchanted
The bus took us across the river to Saltwell Park for this year's Enchanted Park event. I'd been the last couple of times and Heather came with me last time so we were eager to visit again—indeed, that was pretty much the point of the whole trip.
Sadly this year was a little disappointing, for reasons hard to put a finger on. The whole event felt a little smaller, shrivelled. Perhaps it was the later time slot but there certainly wasn't the buzz of previous years on arrival, a lack of crowds, though the car park staff did insist we keep to the correct side of the cones despite the utter lack of traffic. The opening light projection onto the gothic Saltwell Towers was no worse than the last couple of years but perhaps that was part of the problem—it was expected almost, a now unoriginal beginning. Things did look hopeful passing through the cleverly constructed "fairies" of flickering lights dashing through the trees, only for it to end with a stilted and confusing interaction with a volunteer.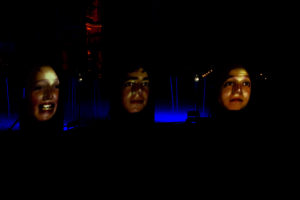 From there we reached the hexagonal lawn by the side of the tower. Only the edge of the space was utilised, with three screens projecting giant faces. Those faces were scanned in from visitors and then digitally (and jerkily) made to recite Shakespeare. It was a neat trick, but not one unseen and, really, not particularly exciting. We passed up the chance to appear and moved onward down the hill. That met an understandable lull as we passed by the animal enclosures, but it was a shame to have everything die away so quickly.
After the slight dip it might have been nice to have a large set piece but what we got was understated and more subtle, though actually one of my favourite pieces. A pulsating row of heart like globes leading us down the hill, accompanied by a deep beat in the night. It was certainly atmospheric and disturbing, though any connection to the Shakespearean theme was lost on me.
The hearts ended at the entrance to Saltwell Towers. It seemed very early to come across it on the route around the park—one would expect to be about halfway not still with the feeling of just beginning. We stopped for food, though there wasn't much choice and again further lacking in vegetarian options for Heather. Then it was on into the night. We were directed across a particularly muddy patch of grass to see some talking lamps we would just as rather not seen. Further on what looked like paper cut out birds danced in the light but were ultimately too ethereal to make an impression.
A blue-green edged path led us onward into the woods, down through a storm. The sound of wind and booming thunder, with flashing lights, certainly evoked a tempest, even if the forked lightning was a little too comical to be effective. The whole ended with a great flashing cloud hovering overhead. One of the more successful parts of the trial.
There were then some things in a jar, and a bit of shadow play followed dangling fairies too reminiscent of the earlier birds to be effective. A row of illuminated roses followed. They were pretty, and drew one in but immediately of the garden at Leicester Square during Lumiere London.
We were led further by words glowing at the side of the footpath, though the impact was diminished by the volunteers constantly walking up and down the line with (what I assumed to be) a UV lamp to refresh them. Part way round a still life stood shining, feeling a little like Shakespeare meets Sherlock Holmes but with no real explanation or connection to anything else. The path finally led us to the bandstand, where more shadow play was on offer, with huge pages of cutouts casting shadows using torches. The whole thing was a little unwieldy and difficult to see though.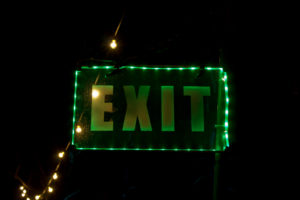 Finally we reached a bear, with the exit labelled. We weren't too bothered to see that. The whole thing had felt a little short, and something of a let down. The pieces seemed hit and miss, and disjointed. There was no story to follow, unlike the last couple of years—one was left wondering where was this midwinter's tale?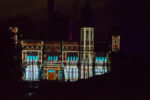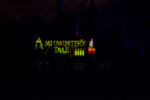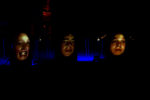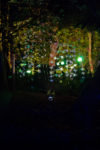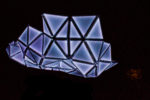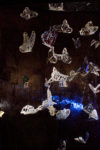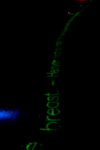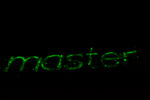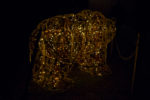 A New Pub, And An Old One
Slightly disappointed we took the bus back towards Newcastle (once it eventually turned up; one seemed to go missing) but actually got off in Gateshead and walked down the hill. There we called into the newly opened Station East pub (formally known as the Station Hotel). It's a nice little fit-out, still smelling of paint, and seems cosy enough. Unfortunately my pint of Tyneside Blonde wasn't up to much (a surprise, given the pub is owned by the brewery and Heather didn't much like her cider either. So we went across the road to the ever dependable Central. After a couple of drinks there it was a walk across the bridge to bed.
Through The Window To A Purrfect Breakfast
The next day we were up early enough to wander around the mostly empty shops. That didn't matter for keeping up a Christmas tradition and visiting Fenwick's window. The theme this year was Peter Rabbit, which probably entertained Heather more than me but it was still fun. We were killing time really though before heading for Mog on the Tyne and breakfast with the lovely cats. Once we were settled onto a comfy seat, and the cats had made sure there was nothing interesting in any of our bags, we settled back for scone and coffee. Heather followed things with a huge bit of cake, though somehow we prevented any feline friends eating more than the cat treats they were offered.
After the cats there wasn't much time left to do anything but wander some of the now open shops, including buying a new rucksack to replace my falling apart one. A brief stop in the Charles Grey to change contents and it was off home.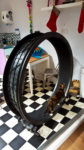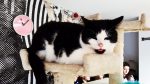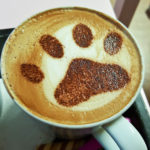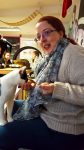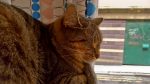 We tried to extend things in the Black Horse but were driven away by open mike night and so the Tailor's Chalk fed us in the end.