I seem to have been quite remiss at keeping up with a few things on here, so this is a bit of catch up post to quickly collect activities from the latter part of the year.
For instance, I don't seem to have mentioned that having enjoyed them greatly last time we went back (with Gemma) Hall Place to see The Pantaloons again. They didn't disappoint with a playful production of As You Like It, even smiling through the interruptions of noisy motorcycles.
Before that there was also the chance to see Dylan Moran again at the Apollo. He remains a very funny man.
And the run up to Christmas brought a little local production of an Alice In Wonderland panto, with Millie as a dormouse, and a not to scary Jabberwocky (it's just a model; with Bridget inside).
There were also annual fireworks. This year I met Heather after work and we went to see the Swanley fireworks near her office. They were better than expected, and even had the these days rare sight of a bonfire.
Music
Buffalo Tom
The wonderful three piece rock band Buffalo Tom returned to London so we went again to see them, with the added bonus of a new venue, the compact and slightly famous Electric Ballroom. The support band Sunstack Jones were entertaining enough and the place was crowded (including slightly strangely somewhere a certain Rachel McCormack (nee Bullen) though I didn't actually bump into her) by the time Buffalo Tom rocked the night away.
The Charlatans & James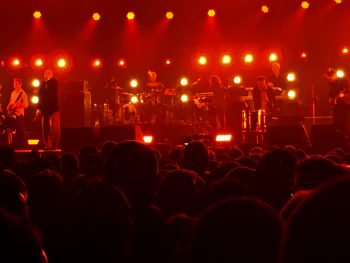 Next up on the music scene were two bands, either of whom really could have headlined, in the more familiar surrounds of Wembley Arena (though this time in the standing area—the venue is still quite rubbish). First up were The Charlatans who were on amazingly good form, certainly considering they were "support". We also got the treat of the two Tims (Burgess and Booth) being North Country Boys on stage together.
James were then their normal amazing selves, with an atmosphere which at times took me back to university days (at least in my head—not sure the body can hold up quite so well). A fine night's entertainment.