Having seen half of them in Chester, there was a chance to see the full Cooper family at the start of August, as Doug, Esther, and Evie were over from Switzerland and the others down from the north-west. We had to squeeze a meet in, shortly after getting back from Hastings and just before other things (and my going back to work), so we all met up (Heather's mum included) at Heysden Country Park just outside Tonbridge.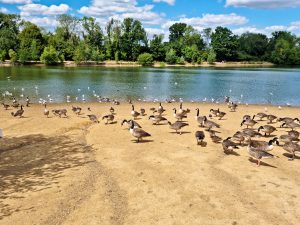 Heather and I headed down there by train and were picked up at the station by Doug. We found the Coopers mid-picnic by a pretty lake, and were quickly tucking in ourselves. After lunch and the children running around a bit to burn off some of the associated energy we went for a walk around the lake. With the blue skies and fluffy clouds it made for a pretty series of reflection. We fed the birds along the way, and I acquired a goose army Heather wouldn't let me lead to world takeover (maybe just as well).
There was still time for ice cream and some cricket (which I watched) and boules (which I proved to rubbish at). We decamped to a pub with a beer garden (a bit local feeling but welcoming enough) for a drink before everyone headed their separate ways.
Heather and I walked back down towards the station past the impressive buildings of Tonbridge School and catching a glimpse of the castle before a quick last drink in the slightly disappointing Ye Olde Chequers Inn before the train home.
A Few Pictures From The Day