Quite the way behind writing anything so a hodgepodge collection of items here, in a sort of catch up.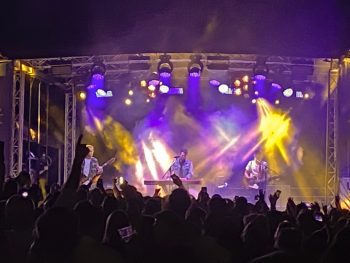 First up, Hastings and Heyden Park came a return to Priory Live, the little local music festival down the road in Orpington. This years highlights included the son of one of the band members rocking out to an early group, the wonderfully sunny weather, and headliners Scouting For Girls. Looking forward to what next year turns up.
There was a little trip to the interesting Severndroog Castle (a place I'm mainly only familiar with because of work, to see the classic The Importance Of Being Earnest. A bit of Wilde is always welcome, and it was finely put on in an intimate outdoor "stage". Great fun.
A couple of other things to mention in all this. Ed and I (along with Heather and Merete, and the in-tow Gemma) had our bi-decade or so meet up. We met them off the Eurostar and made our way across to Liverpool Street for a while before those from foreign lands had to catch the onward train. Always good, and one day I may make it to Denmark!
And our friends, Candi and Chris, finally got married, which we watched on a dodgy Zoom link which seemed determined to drop any actual sound (there's an actual proper video available now thankfully).
More entertainment was had in the form of Milton Jones as part of the Greenwich Comedy Festival (which we'd also been to last year though I don't seem to have mentioned it here). Turns out he's as much king of the one liners in person as he is on TV, and very funny too. It also turns out Rosie Jones is just as annoying in person, and Reginald D Hunter is great.