Having skipped this year's Petts Woodstock Heather and I did make it along to a fairly sunny Priory Live in Orpington.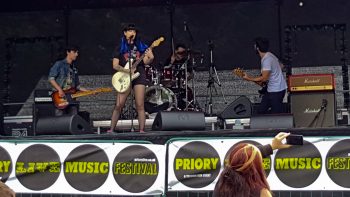 We arrived to Weekend Recovery making noise on the stage. They were a pretty good soundtrack to finding food from the venders scattered about. It's just a shame that, with bringing your own alcohol being banned this year under the licencing rules, the bar was so piss poor (charging £3 for a can of beer and a plastic glass—and running out of options quite early—does not a great bar make). Anyway, Weekend Recovery have a New Tattoo:
Having settled ourselves on a patch of grass centrally near the stage we waited for artists. Next up were Frass, who were pretty loud with a fairly decent sound. They were followed by one of the few dips in the day, as Keval appeared to give some reggae rhythms, which aren't really my cup of tea. That made us lament a bit harder the complete lack of information at this year's festival—no lineup timings, either as hardcopy or on the website, which made knowing what was coming next and planning any breaks impossible. It probably also meant that the acoustic stage was even less visited than its very poor advertising would have suggested.
Some random female solo artist then sang a single song (whether she'd just popped across from that acoustic stage or what I have no idea) before Motorcycle Display Team took the stage (sadly without actual motorcycles). They were much better, ramping the sound back up, taking us All The Way To Rockaway:
They were followed by a man with a beard who sang the blues. I didn't catch his name but he was quite entertaining. The crowd were then woken up again by Wake Up Leo. Not sure they moved like a stripper though:
Next up came Cecil, a female singer songwriter who was at least competent. Suburbanstar were also competent, and more to my liking: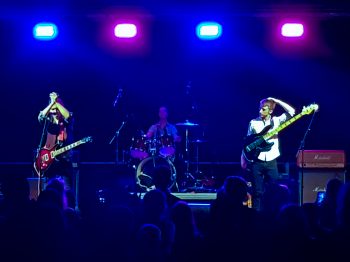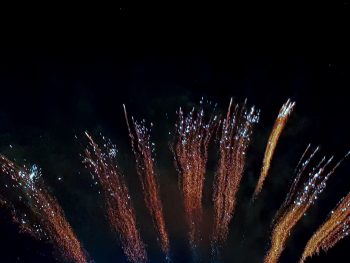 By now darkness was descending and things were beginning to feel a bit rushed (perhaps a consequence of that lack of schedule). Having rushed through their set Suburbanstar give way to Hemmingway who just about got through their own short but interesting spot.
As headliners I wonder if the rather good Starts Hill were supposed to have more time but there seemed to be desperation creeping in to get to the fireworks, and probably beat the event curfew. Still, we danced around with glow sticks to the rocking tunes they did manage to play before heading off to the pub for a quick drink to round of the day.