This winter has been a bit lacking in pretty light displays compared to normal (Enchanted Parks were cancelled—read unfunded—this year), so it was good to get along for the traditional visit to Canary Wharf Winter Lights.
Heather met me at London Bridge and we made the short tube hop to Canary Wharf station, emerging to reasonable crowds and helpers handing out maps. We took a map each and made our way to the nearest exhibit, Mi-E Dor De Tine, a Romanian phrase translating approximately as "I Miss You" floating above the water of the old docks.
Having pondered what was being missed we made our way through the Jubilee Park, it's water pools being filled with recycled plastic globes which glowed with colour to form Pools of Light. That led us to the entrance to the below ground shops and 16 Bits by Parker Heyl, a strange Jacob's Ladder of colour reflecting squares that was as much confusing as anything else.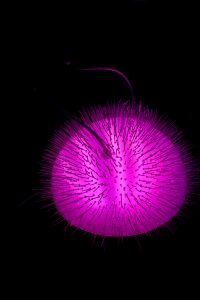 Still beneath the ground we found the patience to queue for admittance to Chromatic Play by Tine Bech Studio (who had lit up the roof garden last year and given us the fun Colour Me Beautiful the year before). This time we were led as a group into a dark room with a handful of glowing "alien" creatures. One of the guides ran through how sensors on the creatures allow interaction with the audience and colour change themselves and each other in response. Unfortunately there were basically too many people in one go for this to really be evident as we milled around afterwards (and it would have been more fun if the creatures moved around).
Back outside, at the other side of the park, one of my favourite pieces of the night. Affinity looked like a bunch of pyramids build from ball and stick models. Bold, smooth colours illuminated the balls and sticks, with buttons on the lower balls allowing interaction, sending a change of colour flowing away further and further. In the crisp night the sharpness of the lines and fun of changing the colours was quite satisfying.
Heading for the other side of the park we past the wonderfully named Squiggle, one of several Angus Muir Design pieces. Sinuous ropes of light, well, squiggled over the ground, changing colour and pattern over time; sometimes solid ropes of colour, other times dashed lines which almost looked like cutting instructions.
Away, finally, from the park we made our way through the strange streets of Canary Wharf to a row of more exhibits, beginning with the peculiar Bra Tree, which was indeed a tree with bras hanging from its branches—illuminated or not it was more wrong neighbourhood than light festival. Next to it was something much more in keeping, a Neon Tree by Hawthorn, branches glowing brightly in the dark night. In fact they were so bright it was difficult to see the real tree beneath, leading to ghosts of neon branches. The familiar Lightbenches have moved here now too—and Heather still insists on waiting for the one she's sitting on to turn pink.
Just over the road, somewhat hidden down a level at Waitrose, was the rather disappointing return of Seed Of Life (which seems to have changed its name I think). We felt no desire to queue to get a quick sit inside the translucent plastic so quickly headed to the looming Crossrail Place. There we found the more interesting Desire.. According to the info this should look like either a pair of lips or a heartbeat depending on angle but I confess it just looked like a collection of red beacons to me. Perhaps the perspective was just wrong.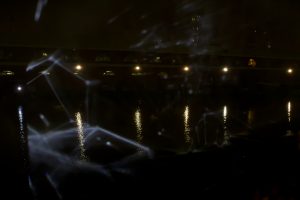 Reminiscent of last year's Aura, though not as successful, Constellations uses a water spray as a screen for projection of moving shapes accompanied by an ambient soundscape. It's a neat trick, though the projection falling on a nearby building wall was almost as interesting.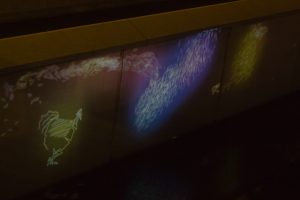 Back along the dockside (skipping the chance to head to the roof garden to see the disappointing two year ago light painting) the almost traditional projection onto the waterside walls was this year taken up by Philipp Artus's work Aquatics—swirling "creatures" that apparently could be created by the viewer though it wasn't obvious how (probably some app). They were alright, but not as good as the same artist's Flora which had this spot a couple of years ago.
Heading down towards the fountain we found what at first was a slightly boringly blue Mountain of Light. Even in a single colour form it was cool and intriguing, an eight-bit mountain of blocks. It later transpired that it does indeed change colour though, becoming a fiery volcano of blocks, which just made it even better. Between those two states we briefly visited Ditto by Ithaca Studios but weren't intrigued enough to want to queue to sit in the middle of the ringed curtain of lights.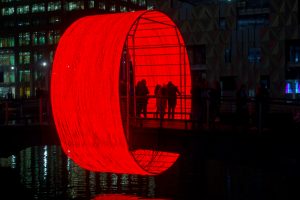 We were delighted to find that the dancing fountain had returned to the centre of Carnot Square, it's spraying jets moving and changing colour in time to music (notably Space Oddity seguing into Rocket Man). We watched a while and then headed down to the water to see the peculiarly named The Clew by Ottotto.
A circle of banded red lights through which one could pass, a quite reflection in the water beside it. Pass through the circle we did before heading down the road for the gardens at the bottom.
Just outside we found Stratum, an array of poles with light moving up and down, controlled by user interaction. Engaging as it was, it seemed only really fun if doing the controlling, which left us briefly watching and then wandering away. In the round garden itself we found Lactolight, a circular wall of moving colours made from recycled milk bottles repurposed into the giant pixels of the screen. The patterns constantly changed, sometimes a wall of light, others more intricate light details.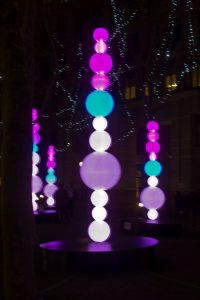 Over on the far side of the garden the third Angus Muir piece of the night, Shish-ka-buoy, a sequence of towering illuminated balls, rising colourfully into the night. It's fine until you realise that frankly they look like giant, brightly lit sex toys! Still, they were quite neat.
I got us a little lost trying to follow the map backwards, but eventually we rediscovered where we were meant to be and Sky On Earth by UAII Studio, a foam produced cloudscape one walked over the top of as lights played through the "clouds", provoking memories of lightning and storms. At the far side, having negotiated the bits of cloud blown onto the walkway, the permanent Time and Tide still does little for me.
And that was it, more or less. We didn't fancy walking over to find the return of Sasha Tree, having glimpsed them from afar, but we did stop off to watch Bit.Fall for a bit before catching the DLR homewards.
Photos
Lots more of course