Next up on the great musical tour was a bit of a repeat of , with a visit to the O2 Arena to see Kaiser Chiefs.
As a venue the O2 still seems to treat those coming to stand like a dirty secret, the entrance hidden and requiring a half mile trek around barriers to get in (even when arriving quite early and there being no queue). They're still a stickler for not standing beyond their lines on the floor either. It would also be helpful if they better advertised the fact that you can actually get up to all those fancy food venues and bars, and aren't stuck with a hotdog from the poor offerings at ground level.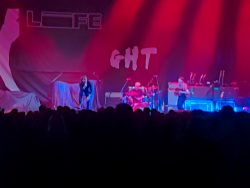 Anyway, on with the show, and we were early enough to see the first support act in a still relatively empty arena. Life, brought a commendable raw energy that was at times almost infectious in its wall of drums and guitar, but at others simply incoherently angry. They were at their best when the frontman wasn't trying to be overly lyrically complex and was more subservient to the noise.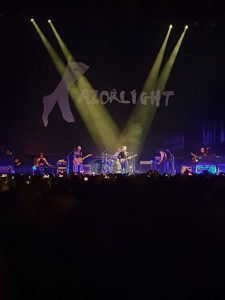 The real support of the night though were a band I'd happily go and watch all by themselves. Razorlight launched with a confidence befitting their standing, arriving Back To The Start and carrying on through a fairly hit laden set which fortunately I could still just about remember in the morning.
The main act, arriving in a laid back style on lounges set high to one side of the stage, also produced a hit spattered show—though they started off with, and scattered in, new material from their latest album Duck (some of the artwork for which looks something like a demon possessed Count Duckula). Those songs never felt out of place among the raucous sing-a-long hits though, feeling like more of the same we'd yet to meet.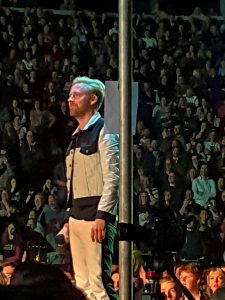 It was an assured and fun performance—at one point frontman Ricky Wilson appeared at the central mixing area to perform an surrounded by the crowd, before having the next song chosen by a random audience member playing hook-a-duck! A fine band, if never going to be my favourite (I wouldn't have been so tempted to see them again had Razorlight not been supporting). I just wish they'd play somewhere other than the O2!