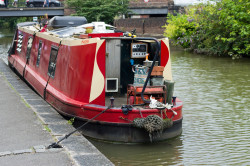 The recent weekend was long with a return to Chester, for Heather and I. Once again we were there to see some Shakespeare in the park (it's becoming a tradition), as well as Heather's brother Richard (and Caroline) and little Joseph, who had just turned one.

Friday
The journey up to Chester was pretty uneventful, arriving nicely in time for lunch. We piled out the station and into the Town Crier for food and a refreshing drink. Then it was a stroll in the sun up the road to the guest house (it's changed hands since last year it seems but is still very accommodating, despite being run by a mackem—they did give us gingerbread after all!). Once settled in we wandered to the centre of Chester to investigate some of the pubs we'd not had time for last visit.
We basically made our way down Lower Bridge Street, starting at The Falcon. It's a Grade 1 listed building which started life as a house and apparently became the first building to be allowed to enclose its portion of Chester's famous "rows", setting a precedent for the rest of the street. Eventually it became a pub, fell into disrepair and was then restored. As it is it's a quirky little place but doesn't have the feel of a favourite bar, perhaps too much of an old man's pub. Next on the list came The Tap, a big open space of a bar (situated in a Jacobean great hall) which seems more of a destination for its beer (nice enough) and food (which looked a bit too restaurant style for a homely pub) than the interior space or feel.
The last pub on the little tour was the Bear and Billet at the bottom of the hill. That seemed a lot more to our liking. Heather found a sweetie dispenser which resulted in my having to take the sweets away from her until she'd had her dinner. We did both find food to our liking to, even if Heather got potatoes she didn't really want. That was pretty much it for the day as we headed back to the B&B for some rest.
Saturday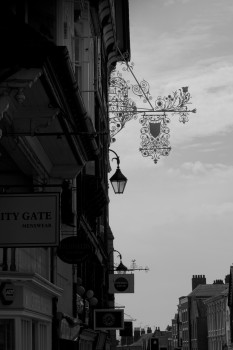 We had Saturday to ourselves to kill off and so wandered into heart of the historic town. In true tourist style we did a bit of souvenir shopping, Heather acquiring a lovely glass Chester "lucky devil" from a glass shop with many pretty things. We also visited the Cheese Shop (I waited outside, away from all the smelly things, which is probably just as well to prevent outbreaks of Monty Python). After that we called in to the rather lovely Pied Bull just opposite where I could sample the ale brewed on site (and learn from Heather that pied means black and white, which till then had managed to pass me by!)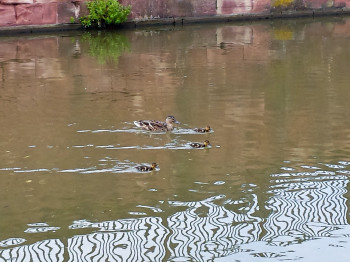 As it was by then lunch time we decided we wanted the one thing lacking in the Pied Bull, a nice riverside (or canal-side) location. We headed first to the Lock Keeper which we had been passing on the way into and out of town. It proved disappointing though. It was a hot, English summer day but they'd managed to run out of Pimms for Heather; then sat outside it wasn't the best location, the pool in the canal alongside looking dull and brown and a constant heavy traffic stream passing over the adjacent bridge. We decided not to eat there, instead watching the passing ducks as we took advice from Heather's brother Richard. That led to a stroll along the canal, following those ducks, to lunch at Artichoke (one we'd sorted out its name). The food there was lovely, even if the service a little slow at times (perhaps because we chose to sit outside by the canal). The passing dogs certainly liked the smell of my rabbit!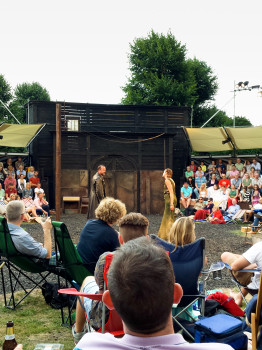 Filled and ready for the evening we returned to the B&B to change and rest a bit before heading back out the Grosvenor Park. This year's performance was the Scottish Play (Heather would insist on saying it!) It was quite good, though possibly not so much as the previous year's. The treatment of the witches was certainly interesting, a constraint of the staging I suppose. And it didn't rain at all for the evening in the open air (for some reason Heather has a memory of it raining near the end, but she's obviously mistaken…)
On leaving we couldn't find the taxi rank we'd found quite easily the year before and so spent some time wandering around before a random cab took us to bed.
Sunday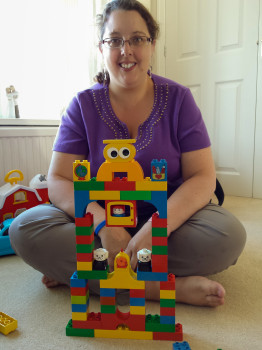 The next morning saw us picked up by Richard and driven over to his house. There we were entertained by Joseph, now a little over 1-year-old. We presented his "grow caterpillar, grow" duplo birthday present which became an excuse to bring out all the other duplo he has. Heather had great fun building a temple to the dog gods, complete with a sacrifice. As we played Richard and Caroline busied themselves preparing a wonderful picnic, and soon it was time to head off to Walton Hall and Gardens.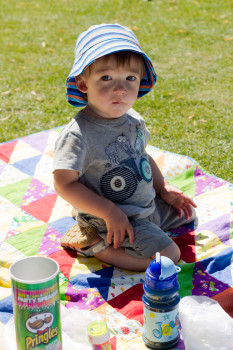 There the sunshine was kind to us as we tucked into the picnic on the grass. Joe enjoyed running around (even if he did have a couple of trips—hasn't worked out turning yet) and we were very entertained watching the efforts of a nearby group to retrieve a frisby from a tree. There's a children's zoo at the gardens, with rabbits and goats and the like, which kept both Joe and adults occupied. Then ice cream and a turn on the swings for Joseph (too busy for the adults to have a go 🙁 )
We headed to Frankie and Benny's for dinner. I suppose there were no ants crawling across the table, which was pretty much my only other experience of the chain, but I doubt I'll ever be a fan. Joe at least did get a balloon though, which made me quite jealous. Then off to bed it was, all worn out and nearly joining Joseph in sleep in the drive back to the accommodation.
Monday
Monday brought a common problem—what to do with bags. We could have left them at the hotel but it seemed a bit of a trek to go back to retrieve them and Chester station has no left luggage (all stations should!) Luckily our hosts knew of somewhere offering such a service, a little place just around the corner from the station with a small sign in the window. Bags safely deposited we made for a last turn around the town, calling in for fudge and momentos from the tourist shop. A return to the Pied Bull was followed by a return to the pub opposite the station before the train back to Euston.
Arriving at rush hour we hid out in the Euston Flyer for a bit and then headed to Sidcup and the Black Horse, which disappointed by having no fish but fed us both anyway!

Photos: