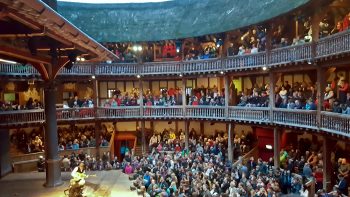 A trip to the Globe is a sort of yearly occurance, so long as we remember to book tickets in time. This year it was to see The Taming of the Shrew (a play neither Heather or I had seen before). It was an interesting production, the setting transformed from sixteenth century Italy to the early twentieth century of the Irish Uprising.
.
The play is known to be problematic, mainly due to the "taming" itself, and, in this production at least, felt disjointed between the fiery Katherine of the first acts and the almost suddenly defeated woman in Petruchio's home later. I think it would be interesting to see a production that more took the route of farce that the induction possibly suggests.
It was still all enjoyable, even if a bit uncomforable by modern sensibilities. Next up, Two Gentlement of Verona in Chester.