It's summer, so after a trip to some seaside by a river, it was time for some proper seaside, and our normal journey to Hastings.
We headed down to the coast via London Bridge, a pretty simple journey. We arrived to the usual seagulls, one of which looked like he might be ready to cut out the middle man and mug me for money to buy its own chips. We risked the busy Wetherspoons for some lunch (or all day brunch) on arrival before heading to the always wonderful White Rock Hotel and settling in behind the Juliet balcony to stare at the sea and pier.
We decided to go for a wander around that pier, which at least seemed busier than it has in the past with plenty of kiddies rides and a fair number of stalls. It's also acquired a little crazy golf—not as fancy as the one down the road but of course we had to have a go. There's also what purports to be the UK's Bier Garden, which is basically just a load and load of picnic benches at the far end of the pier, with a bar (better than the great empty and vaguely depressing expanse it used to be). We had a drink and went looking for food, finding an old favourite in the Italian Way. The food was good as always, though the lights seemed to dim up and down of their own accord for no reason. And then back to the hotel, for a lovely rest.
Apparently we forgot to put the do not disturb on the door and house keeping come quite early because we had to tell them to go away before Heather headed down to breakfast. I enjoyed sitting with a book by the balcony, enjoying the sunny view—certainly one of my favourite things to do in Hastings.
Once we'd sorted ourselves out we headed for a wander round the always attractive Old Town, though several of the shops didn't seem to be open until later in the week. The Hastings Arms is still a fine shout for food though, so we enjoyed some in the sunny little courtyard at the back. There was time to visit Heather's favourite "tat" shop (she seems to buy an inordinate number of bags from there) before heading back to the hotel to deposit the day's purchases.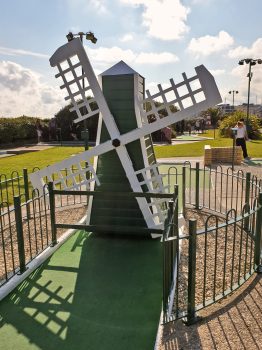 We ventured out again to do one of our absolute favourite Hastings activities—play crazy golf. We took on the classic course, complete with tradition windmill and talking lighthouse. Having done that we had a wander round the arcades, winning a ton of worthless "prize" tickets on the tuppenny push machines. Then it was back for a second course of crazy golf, before a break in The Albion There was a final round of crazy golf to complete though, so back we went, round number three.
That all quite tired us out actually so we headed back to the hotel for some dinner (nice, though they need to learn that a pie needs sides and a bottom). We took drinks and ice cream to the room to finish off the night with the quiet sea beyond the window.
While Heather had her breakfast downstairs I again sat by the balcony, reading and renewing a railcard. Today we had a plan to revisit the castle, as we hadn't actually been up there for a few years. Unfortunately the funicular up the cliff was closed for maintenance so we had to do things the hard way, finding the stairs and slowly climbing our way to the top. The views are worth the climb though, and the castle was waiting to welcome us. The facilities haven't exactly improved since last time—there's still no guide book and still an ugly cabin in the middle of the bailey which contains the screenings of a film (Heather watched it again, I couldn't be bothered this time around). There's also at least one information board which declares itself ("You are here") to be somewhere it clearly isn't. Still, the castle's remains are worth wandering around, getting a sense for how impressive the ditch cut through the landward side is, and peering at where the cliffs once were, now long fallen. There's also a now traditional photo to be had in a little alcove—not as regular as the one in Rochester though.
We took the road back down from the castle, grateful we'd not tried climbing its steepness. After a stop in the Tourist Information by the station (wandering a few bits of road we'd never been down to get there) we headed back to Old Town and some lunch outside Hanushka Coffee House.
A bit more wandering around the shops then found us in the Pump House which seemed surprisingly quiet until we realised the kitchen was closed. Refreshed and having been up one cliff we headed up the other. Thankfully the East Hill Lift was running, so we didn't have to climb a load of stairs this time! Reaching the plateaux of the hill at the top we were amused to find a bunch of firemen buying ice cream, their engine and the ice cream van seeming to merge into one vehicle from certain angles. We think they found a small fire up there just as an excuse ourselves!
We went for a wander around Hastings Country Park, having enjoyed it last time. We were soon lost in the tranquil woods, almost able to pretend we were the only people around. We made it further in this time, reaching Ecclesbourne Reservoir before turning back—despite having left maps in the hotel! Next time we really should go with more time and provisions.
Coming back down from the cliff we remembered the The Crown is quite nice, so stopped off to sit and enjoy a drink in the fading sun outside. There we were entertained by the seagull who obviously had its own favourites from the menu, and wandered around like it owned the place (it wouldn't even get out the way of a car coming down the quiet road). It probably wasn't helped when it turned out the occupants of the house opposite have a habit of feeding the gull! There was also "Schrodinger's gull", perched at the very top of a roof, which for the longest time we couldn't work out if it were alive, or dead with its head down the chimney.
We considered food in the Crown but had sort of decided on our meals by then, and tonight was going to be the Blue Dolphin, where we got fish and chips (and eventually found some beer—the shop next door didn't seem to have any!), and took things back to the hotel room for the evening. The fish and chips were better than last time, but sadly still not up to the Dolphin's old standards. Perhaps somewhere else will get a chance next time we return.
I normally end up going with Heather for breakfast on at least one day, and so this morning found myself eating a bacon sandwich out in the sun on the deck of the hotel. Once we'd finished it was yet another trip into Old Town to visit the shops which were now finally open—it's always worth a wander around some of the more interesting offerings. It also gave an excuse to stop off at the Hastings Arms again.
For lunch we had a table at Webbe's booked. As per usual they didn't disappoint, with a tasty smoked fish platter to start while we both had the plaice, also lovely.
After lunch we crossed the road and into a new venue for us, Hastings Contemporary gallery. The large ground floor gallery was taken up by an exhibition from Quentin Blake. Given his fame for children's illustrations the content of We Live In Worrying Times was somewhat disturbing; a series of quintessentially Blake illustrations but of a world far more dystopian than the one normally seen in a kid's book. One wonders if Quentin is okay?
Upstairs a series of smaller rooms held Seaside Modern, which was actually pretty fine and interesting, with a good mix of exhibits. One room in particular was spectacularly good, with some Paul Nash and Bill Brandt on the walls and Henry Moore and Barbara Hepworth sculptures. Elsewhere a Lowry made a welcome appearance.
As we were already along that part of Hastings we carried on after the gallery, heading down Rock-A-Nore. We called at the Fisherman's Museum, a wildly jumbled collection of mostly local artefacts towered over by a fishing boat. At the end, beyond the car park, we admired the cliffs and rocks and sea. Rain was coming in, so we made for The Dolphin to wait it out.
Rain subsiding we looked to head for the Hastings Arms once more, but were chased out by the jazz to find ourselves tucked into the Pump House again. From there we headed back to the hotel. The bar area was busy, but we were directed downstairs to the basement. A "where did that come from?!" moment occurred as a whole bar area, complete with twenty-thousand leagues under the sea theme and gentleman's club feel was revealed (apparently set up just before the pandemic hit, and only just reopening). We settled into comfy leather sofas and had the ever willing staff running upstairs to bring ale and food. I fine night, and hopefully the basement will retain it ambience in the future.
Once Heather had had breakfast we actually seemed to loose a bit of motivation. It had been a lovely week in Hastings but it did feel like we'd done everything we'd planned, and given the continued situation staying any longer might be a bit of a hassle. So we relaxed a bit and then checked out and headed home, back in time for the usual Friday night Zoom quiz!
Photos